5 PAX posted this morning in the gloom.  Weather was a little crisp but overall a nice morning.
Bubbilicious
Slit
Crabby PO – QIC
Stache
Wapner
Warm UP:
LBAC Forward IC x 10
LBAC Reverse IC x 10
Wall Stretch OYO
Arm and Leg Stretching OYO
Mosey with blocks down Bob Sanders Drive to the Softball Diamond.
Thang:  Crazy 88's – Courtesy of "F3 Softball"  from F3 Puget Sound.
Pax completed three rounds of exercises on the the softball field.  PAX started on home plate and went 100 yards out dead center to the outfield fence stopping every 10 yards for an exercise.  YHC made a few slight changes to the routine.  #1 we did not complete for time and #2 Modify the Burpee Broad Jumps to Broad Jumps after 40 yards.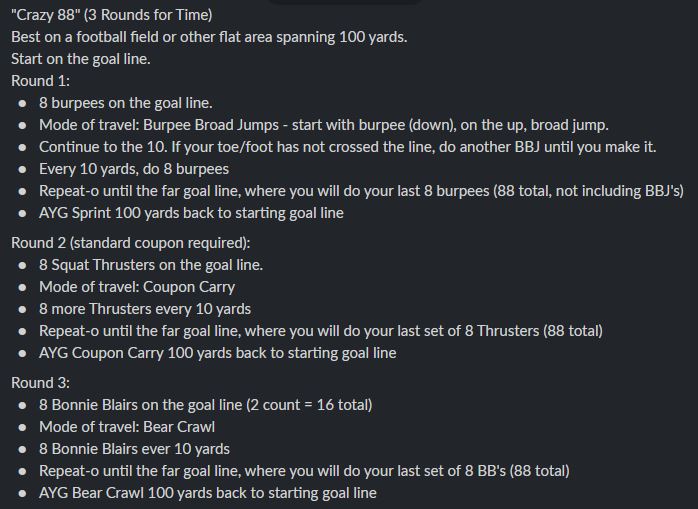 Mary: 
LBC's IC x 20
Heel Touches IC x 20
American Hammers OYO 20 each side.
Moleskin:
Numbers continue to be lower than normal but with all that is going on in the world right now that is to be expected.  YHC called out his first every block party this morning and things got a little crazy.  YHC "borrowed" this mornings beatdown from F3 Softball from F3 Puget Sound (thanks be to twitter) and it did not disappoint.  Well unless you're a Mascot who enjoy's non challenging workouts and Blue Pills.  It was determined that Bear Crawl's after about 100 Burpees shall now be known as "Injured Opossum trying to cross the road."  All and all a good effort by those who posted this morning.  To those in the fart sack we missed you.  If its due to lack of motivation message me I will motivate you.  If its due to COVID we understand.  We'll get through this and be even stronger on the other side.